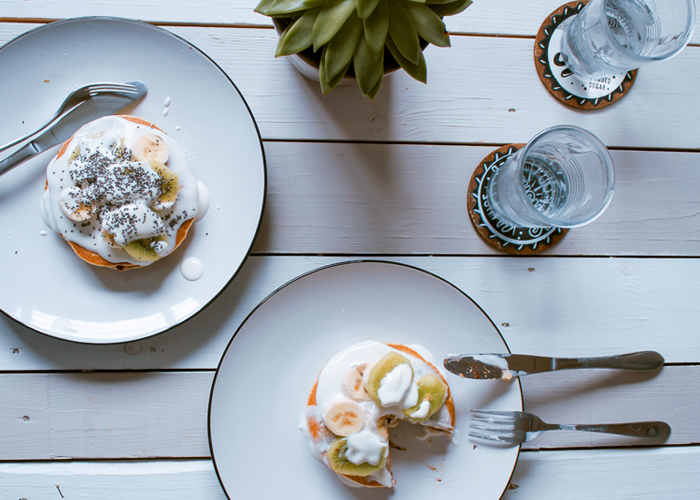 Bagels, pizzas, cronuts and cupcakes: there's no better way to learn about New York City's multi-cultural heritage than through your taste buds. For a big bite of the Big Apple, here's the lowdown on what I discovered and tasted on my various New York adventures and should be included on any food-lover's trip to NYC.
1. Pizza
Italian immigrants brought pizza to NYC in the early 1900s, and it has been a New York specialty ever since. New York pizza is all about a thin and floppy base, fresh with a light mozzarella and a classic marinara sauce. Pizza connoisseurs say there's something about the New York water that makes the dough taste so good, but size also counts here: 14 inches is often classed as a 'small'!
Roberta's (261 Moore St, NY 11206). This pizza joint in a quiet backstreet in the hipster Brooklyn neighborhood of Bushwick has been graced by the likes of Bill Clinton, as well as star couple Beyoncé and Jay-Z. Roberta's specializes in large wood-fired pizzas and uses fresh herbs and vegetables picked from the restaurant's garden. Try my favorite 'Famous Original' with caciocavallo cheese.
Lombardi's (32 Spring Street, NY 10012.). Old-school charm and coal-fired ovens, Lombardi's is in the 'Pizza Hall of Fame' not only as a legendary New York restaurant, but as the first pizzeria in the US, selling take-out slices for workers in Lower Manhattan as early as 1897. For something different, try the fresh clam topping or the White Pizza which has a mix of mozzarella, ricotta and romano cheese.
2. Bagels
Chewy on the inside, shiny and crispy on the outside; there's an art to creating the perfect bagel. Brought to New York by Eastern European Jews in the 1880s, the city boasts some of the best bagels you'll find anywhere.
Absolute Bagels (2788 Broadway, NY 10025). Satisfy your bagel craving with sixteen different types to choose from including: pumpernickel and cinnamon raisin, garlic and poppy seed. It's a great budget place to grab lunch if you're saving your cash for the sights – grab a basic bagel and cream cheese and head to one of New York's beautiful city parks to enjoy it.
Murray's Bagels (500 Avenue of the Americas, NY 10011). 'We don't toast' is the company motto here, which in itself is testament to the freshness. Be sure to try the gourmet Eastern Nova Scotia salmon and cream cheese bagel sandwich, a little pricey but worth every bite.
3. Hotdogs
German butcher Charles Feltman first started selling hotdogs in Coney Island in 1871. Since then, the hotdog has become a traditional New York food and shows no sign of waning.
Crif Dogs (113 Saint Marks Place, NY 10009). The flavours here will blow your mind! For sweet-and-salt with a kick, try the Spicy Red Neck – a bacon wrapped dog with chilli, coleslaw and jalapeños. You can also dress your dog with avocado, sour cream, pineapple, melted cheese and much more. For a surprise, see what's behind the secret door in the phone booth…
Nathan's Famous (1310 Surf Avenue, NY 11224). Nathan's Famous has served up their kosher beef hot dogs for over ninety years. Ask for the original sausage and add some thick, crinkle-cut cheese fries for the full experience. Nathan's has food trucks and diners all over town, from the Yankee Stadium to Coney Island, so you'll never be far from a quick 'dog on the go.
4. Doughnuts and Cronuts
Homer Simpson really was on to something: New Yorkers go crazy for doughnuts, so much so that the City Reliquary Museum once held an exhibition in their honour! Some claim the first New York doughnuts came over with Dutch settlers as early as the seventeenth century, but the latest development in this sugary love affair is the croissant/doughnut hybrid that became a phenomenon in 2013, known as 'The Cronut'.
Dun-Well Doughnuts (222 Montrose Avenue, NY 11206). This famous organic vegan bakery has over 200 different flavours in rotation including Chai Tea, Raspberry Pistachio, Root Beer and Mexican Chocolate.
Dominique Ansel Bakery (189 Spring St, NY 10012). If you want to see what the cronut craze is all about, come to the place where it was invented – they've trademarked it to make sure you know it! Cronuts come in many flavours and there's a new exotic flavour each month, such as strawberry balsamic and mascarpone with basil sugar. Arrive early as lineups can get long even before the 8am opening time.
5. New York Cheesecake
There is cheesecake, and there is New York cheesecake. In 1929, restaurant owner Arnold Reuben claimed his family invented the first cheesecake. Word soon spread and this cream cheese concoction began appearing on dessert menus all over town.
Junior's (386 Flatbush Avenue, NY 11201 and other locations). Open since 1950, the old slogan goes: "you haven't really lived until you've had a cheesecake from Junior's" and the giant portions and fluffy consistency keep fans coming back. The all-American Strawberry Cheesepie is amazing!
Eileen's (17 Cleveland Place, NY10012). If you have dietary requirements, such as gluten-free or dairy-free, call ahead and Eileen's will cater for you. You can also pre-order one of the fancier, cocktail-inspired flavours like Pina Colada or drop in for favourite varieties like Blueberry and Cookies and Cream, as well as the delicious, zingy original.
6. Pastrami on Rye
Kosher butcher Sussman Volk produced the first pastrami sandwich in 1887 and it's been an iconic New York dish ever since. Pastrami is usually made from beef, and to prepare it, the meat is pickled with dry herbs and spices then pressed, smoked and steamed.
Katz Delicatessen (205 East Houston Street, NY 10002). Open since 1888 and made famous in the film When Harry Met Sally, Katz Deli is the place to come for a pastrami sandwich. There are cheaper (hot) sandwiches out there, but you'll be rewarded with tender slices of beef pastrami stacked between soft rye bread with lashings of mustard on top and sour pickles on the side..
7. Cupcakes
The earliest mention of cupcakes was in an American cookbook in 1796, with instructions on how to bake cakes in small cups. The trend for cupcake shops in recent years means competition is fierce, so there's plenty of temptation for cake fanciers on a trip to New York.
Magnolia Bakery (401 Bleecker Street, NY 10014). Featured in episodes of Sex and The City, this is the place to sample a perfect red velvet cupcake with decadent cream cheese icing.
Crumbs Bakeshop (Grand Central Station and various locations). There are over 50 different flavours at Crumbs and for those with an appetite, there's even a colossal six-and-a-half inch high cupcake!
8. Burgers
Legend has it that the first hamburgers were served to homesick German sailors in the 1800s to remind them of their hometown, Hamburg. If you're after a juicy patty, New York restaurants – and even the most cheap and cheerful of diners – serve up some of the finest in the world.
Balthazar Restaurant (80 Spring Street, NY 10012.). Perfectly grilled with a thick slab of melted cheese and a side of crunchy fries, at a hefty $21 the 'Balthazar Cheeseburger' is pricier than those you'll find at fast food joints, but definitely worth it.
Shake Shack (Madison Square Park and other locations). The Shake Shack chain has spread all over the world, but started off in New York in 2004. Go for a 100% all-natural Angus beef burger or take a veggie option with the Portobello mushroom-filled 'Shroom Burger, and be sure to get crinkle fries on the side.
9. Brunch
New Yorkers are crazy about brunch and frankly, it would be a sin to go to New York and not sample the pancakes, French toast and other lazy breakfast delights. Brunch is usually served from around 11.30 or 12pm and can run up until 3 or 4pm.
Clinton St. Baking Company (4 Clinton Street, NY 10002). Famous for their fluffy blueberry pancakes with warm maple syrup. Get ready to reach the dizzying heights of gastronomic goodness.
Roebling Tea Room (143 Roebling Street, NY 11211). A cosy Williamsburg tea room with an extensive brunch menu. Creative dishes mix savoury and sweet flavours including baked cheddar eggs with raisin fennel toast and apple butter and a smoked salmon plate with pumpernickel bread.
10. Wildcard options…
With so many places to eat in New York, it's hard to narrow it down to just ten choices. If you're after something unusual, why not try one of these alternative NYC restaurants?
Veselka (144 2nd Avenue, NY 10003). A Ukrainian restaurant that's open 24 hours a day! Try the pierogi (stuffed dumplings) with sour cream, fried onions and apple sauce.
Kenka (25 St Marks Pl, NY 10003). Great Japanese food, crazy décor and a tiny cup of pink sugar with the bill so you can use the vintage candy-floss machine on your way out.
Angelica Kitchen (300 East 12th Street, NY 10003). Goodness on a plate, Angelica Kitchen describes its offerings as 'organic plant-based cuisine'. It caters for the kosher, vegan, organic, raw and gluten-free palates. The huge menu rotates daily and includes curries, sushi, chilli and fabulous desserts with gluten-free options such as double chocolate walnut cookie.
---
TOURS
Food and Culture Walking Tours available from Columbus World Travel
North of Little Italy
Godfather, graffiti & good eats in this hip neighborhood filled with Little Italy's secrets
Tour the cozy corners of New York City's Nolita (the area North of Little Italy) where old-world charm meets a youthful downtown vibe. Taste mouthwatering eats from undiscovered spots that specialize in traditional recipes and century-old techniques.
Walk the same streets as John Gotti and Martin Scorsese while visiting sites made famous by The Godfather. Get a glimpse of the cobblestone streets of NoHo (North of Houston St. in the East Village) while continuing to taste from restaurants off the beaten path.
Taste Roman style pizza, Brooklyn blackout cake and authentic Mexican street food. Between the bespoke boutique stores, cute cafes and remarkable restaurants, you'll want to move in and never move out.
---
The Best of Brooklyn: Half-Day Food and Culture Tour Bus Tour
An exclusive history and gastronomy lesson complete with Brooklyn Bridge views
Start with a drive and history lesson, through Greenwich Village, while getting great views of the famous Washington Square Park.
Follow the trail of NYC's immigrant groups from their beginnings on the Lower East Side of Manhattan and then cross over the Williamsburg Bridge to see where they've settled. Capture gorgeous views of the iconic Brooklyn Bridge. Observe the Hasidic Jewish Population in their cultural enclave and note their traditional attire. Hear about North Williamsburg and its invasion of youthful & artistic hipsters who are reviving this food-focused area.
Visit Greenpoint, featuring one of largest Polish populations, and enjoy a feast of kielbasa sausage and pierogies. Watch our favorite Pizzaiolo prepare a delicious brick-oven pizza and taste chocolates at the famous Jacques Torres Chocolate Shop.
Contact for more details
☎︎ 604-255-7781   ☎︎ toll free 1-800-661-8005